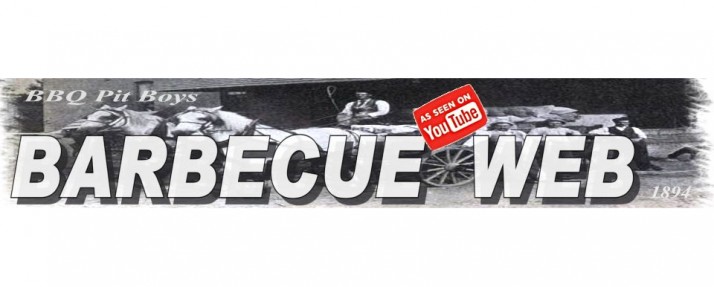 Barbecue Web
Advertise With Us | #1 Ranked for BBQ | BarbecueWeb | Viewer Comments | BPB4L
Looking for the At the Pit Newsletter? Go to Volume 1, Issue 1 or Volume 1, Issue 2 here.
BarbecueWeb – YouTube's #1 Grilling & BBQ Show Since 2007
You smell that? It smells guuuuud…!
Barbecuing is all about good friends, good music, and good food. Good livin' doesn't get any better than that.
When we started uploading our BBQ Pit Boys recipes to YouTube and other leading video sites over five years ago, we never realized what a huge response we'd get. We thank all of you for your kind words and support!
Currently featured on YouTube and in the yop 1% of all Channels, the BBQ Pit Boys have 330+ videos with 40+ million video views. Our YouTube Channel views are 2 million+, with a growing Subscriber base of 140,000+. In addition, our videos have been watched several million times worldwide on video Websites such as Liveleak, VideoJug, Blinx, Yahoo, AOL, Bing, and Google Video.
YouTube showcases the BBQ Pit Boys Show on their Food Shows channel.
We are
Selected as official YouTube's Chefs, of only 14 Worldwide

#1 for keyword "Cooking" in YouTube Shows

#1 keyword for bbq, barbecue, barbecue recipes

Top 2 for food recipes in channels and playlists
Our videos are watched by 1,000,000+ viewers per month, easily beating the monthly video views of the Food Network and the Travel Channel's YouTube channels.
Check out our YouTube Show.
To advertise and showcase your product or service on the BBQ Pit Boys Show, please click here!
_____________________________________________
If you like our videos, have a recipe to share, or a question about Bar-B-Que, please post your comment to any of our videos on our YouTube Channel. Or contact us directly here
bbqpitboys@gmail.com
Thanks for stoppin' by!
-BBQ Pit Boys