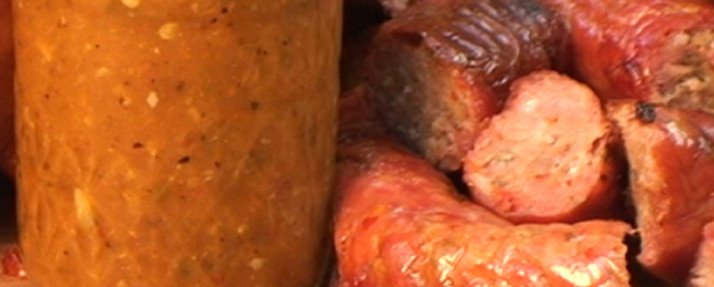 Hot Dogs & Sausages
By Bob Ahlgren | Follow BBQ Pit Boys on Google+
Start each day with a guuud breakfast..!
Tired of the same ol' burgers and dogs? Then check out these Bacon Steak Rolls.
Got your Barbecue Shoes? Then check out these butter poached split-grilled hotdogs, BBQ Pit Boys style. Rated FP - this is Hard Core food!
Sweet and tangy and loaded up with smoked sausage, this Pit Boys barbecue sauce is the perfect condiment for any type of meat sandwich, hot or cold.
It's Hotdog eating at its best with these BBQ Pit Boys grilled pound dogs. If you're looking to kick-up your barbecue, you gotta check these out..!
The time it takes to get to the liquor store and back, you too can be serving up some good eatin' hot dogs, peppers and onions at your Barbecue Pit.
This is no wimpy fast food McBurger Breakfast Sandwich here. Check out this easy to grill BBQ Pit Boys style Sausage, Egg and Cheese English Muffin recipe.
Outrageous! Scandalous! A Vegematic's nightmare! Call 'em what you will, but these Cosby Show inspired BACON BURGER DAWGS are wrapped in Ground Beef, thin
Slow down, kick back, grab some brews, then fire up that grill, and toss them shoes.....! Good livin' at the Pit don't get any better than this!
Grilled Bison Kielbasa slow simmered in Big Bison Beer and sauerkraut and then served on a roll is good eating at its best here at the Pit. And it's real q
Kielbasa Polish Sausage, with slow grilled peppercorn sauerkraut piled high on a sandwich, or simply served along side buttered boiled potatoes, is a favor
Try this BBQ Pit Boys Cheese Stuffed Bacon Hotdogs, and Sausages recipe for the grill. Tthey are real popular, so be sure to make up a bunch of them.
All Hotdogs are not the same. So be sure to check out this BBQ Pit Boys recipe and tips for the grill.