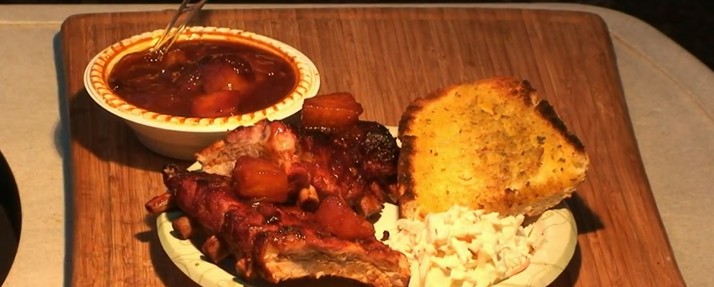 Quick & Easy Recipes
By BBQ Pit Boys | Follow BBQ Pit Boys on Google+
The BBQ Pit Boys cook up a big pot of Stuffed Pepper Soup at the Pit. On its own, or as a side, this is some good eating at the Pit. And it's real easy to
Serve them up the way you want; with mashed potatoes and gravy, or on a foot long sub roll. And they're real easy to do!
While mama cooks her conventional holiday Turkey in the oven, you could be grilling a Turkey on your Pit.
Check out this one pan, easy to cook up meal for the camp or your Pit that'll surely start your day off right.
Try these BBQ Pit Boys quick and easy to make Beef Meatballs are slowly simmered in barbecue sauce for some real guuud eatin
No ordinary Grilled Sausages by the BBQ Pit Boys
American Style Scampi using Shrimp
Sometimes just a burger will do, BBQ Pit Boys style of course.
Got your Barbecue Shoes? Then check out these butter poached split-grilled hotdogs, BBQ Pit Boys style. Rated FP - this is Hard Core food!
A quick and easy grilled wings recipe. And, if ya like peanut butter, you gotta check these out...!
It's Hotdog eating at its best with these BBQ Pit Boys grilled pound dogs. If you're looking to kick-up your barbecue, you gotta check these out..!
Tailgating gets real easy with this BBQ Pit Boys Beer Marinade for beef. And if you like Beef Steak Kabobs then be sure to make these tangy Beef Sticks!
Black Iron Fish Fillets and Fries, with a side of fresh made Coleslaw, makes for good eating at the Pit, & it's real easy to grill using a few simple tips!
Sometimes just a burger will do, BBQ Pit Boys style of course

Want to Support the BBQ Pit Boys?
GET THE OFFICIAL KNIFE