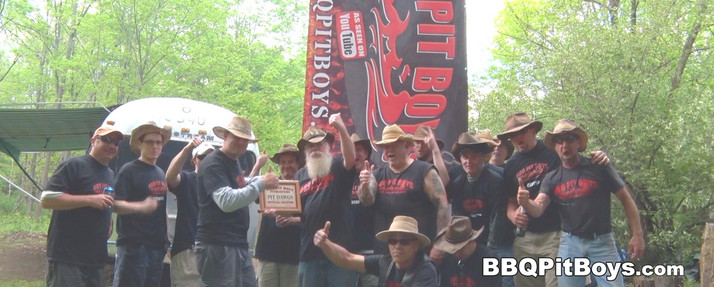 Form your BBQ Pit Boys Chapter!
There are now over 4,500 BBQ Pit Boys Chapters Worldwide. We'd be proud to have you wear the colors, so get to it and sign up now.
The following guidelines are required to form and maintain a local chapter of the BBQ Pit Boys.
Step 1: Select a Local Chapter name:
Your Chapter's formal name could be geographic or regional, or simply unique. ex. (Alligator Alley)
Most groups select the names of cities or counties in which their Chapter is based. (ex. BBQ Pit Boys Memphis)
Step 2: Designate a Local Chapter Leader(s):
Designate a member to be your Chapter's Pit Boss (Chapter President) to correspond with the BBQ Pit Boys Founding Chapter.
You can add additional officers if needed.
Step 3: Agree to the following rules:
Offer to help other BBQ Pit Boys brothers, members, and prospective members, with recipes, techniques, and ideas to promote excellence in grilling and barbecue, BBQ Pit Boys style.
Actively promote the BBQ Pit Boys Chapters and members in Online social and local media, whenever possible.
Step 4: Send us your BBQ Pit Boys pictures:
Upload a picture(s) of your Chapter's members grilling or barbecuing so that we can showcase your Chapter on our Websites! (Note as of Sept-1-2014: We will soon be displaying these galleries on your Certificate page, and give you more control over your official Chapter page under your certificate.)

Want to Support the BBQ Pit Boys?
GET THE OFFICIAL KNIFE