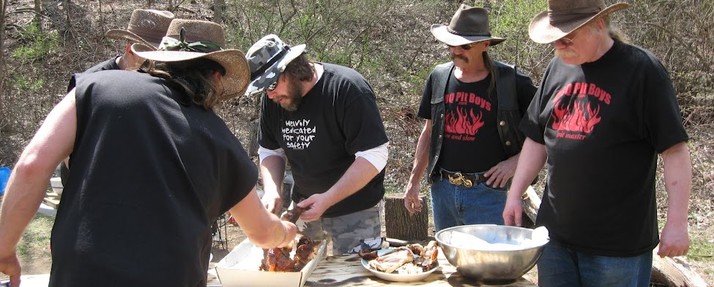 Tips & How-To's
LEARN HOW TO BARBECUE THE WAY THESE GRILL AND PIT MASTERS DO AS THEY SHOW YOU HOW EASY IT IS TO PREPARE DELICIOUS GOOD OLD FASHIONED BBQ. FOLLOW SOME OF THE BASIC TIPS IN THESE VIDEOS AND YOU'LL BE WELL ON YOUR WAY TO BECOMING A BARBECUE GURU. NOW GET YOUR GRILL FIRED UP AND LET'S GET BARBECUING! -BBQ PIT BOYS
By BBQ Pit Boys | Follow BBQ Pit Boys on Google+
The BBQ Pit Boys cook up a big pot of Stuffed Pepper Soup at the Pit. On its own, or as a side, this is some good eating at the Pit. And it's real easy to
Check out this one pan, easy to cook up meal for the camp or your Pit that'll surely start your day off right.
You'll love the light smokey flavor of oysters from this quick and easy to grill "butter fire" technique, that will have you coming back for more!
Take those burgers and dogs to the next level with this easy to grill Pepper Relish. Slow roasted chili peppers, added to a tangy onion sauce.
YouTube asked us to submit some recipes for Ad Blitz, where anything and everything NFL Super Bowl buzz can be found. Here are some of our favorites!
This is a quick introduction on how to grill like a pro at your next barbecue. See some of the basic tools and tricks required, including an explanation ab
A list of some of the important items, from pans to spices, used by barbeque Pit Masters, for grilling and low and slow barbecue. If you are new to barbecu
How to trim a Whole Beef Texas Brisket for your next barbecue as shown by the BBQ Pit Boys.
An old time barbecue recipes food show now on YouTube! Watch the BBQ Pit Boys cook up some baby back ribs, spare ribs, roast chicken, split chicken, wings,
Trimming pork ribs into St Louis style Barbecue Spare Ribs is demonstrated by the BBQ Pit Boys.
Looking for some tips to make tender barbecue ribs? The BBQ Pit Boys show you how to remove the membrane from pork loin ribs, Baby Back, and Spare ribs.

Want to Support the BBQ Pit Boys?
GET THE OFFICIAL KNIFE